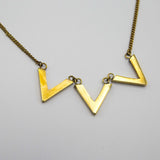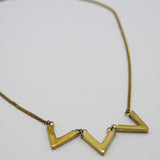 Tri Chevron Necklace
If at first you don't succeed, tri tri tri again with our Tri Chevron Necklace - it will accomplish everything you want it to in pulling together an outfit. This stylish necklace features 3 linked brass chevrons on a brass chain. 
A Kenyan market artisan partnership. Learn more about our artisans' handmade products here.
Details: 28"L