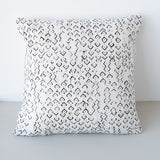 Mud Cloth Strip Pillow Case
Display a piece of African art history in your home! Mud cloth fabric originates from West Africa and is called "mud cloth" for its dye materials and techniques - it is handwoven from hand-spun cotton, and is then dyed using natural dyes from the earth and various tree leaves. Snag this gorgeous throw pillow while they're still in stock!
*Pillow insert sold separately.*
Click here to add 20" x 20" pillow insert
Handmade by the women of Amani Kenya.
Details:
20" x 20"
Pillow case does not include pillow insert. Click

 

here

 

to add 22" x 22" pillow insert