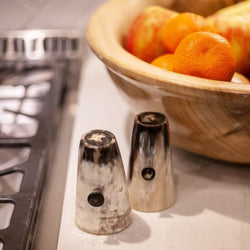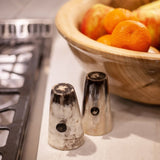 Horn Salt & Pepper Shakers
A handmade salt and pepper shaker set created out of real cow horn. These salt and pepper shakers bring a rustic, yet chic African touch to the table! Comes in a beautiful dried banana leaf box---a perfect gift set for the newlyweds or a new neighbor!
A Kenyan market artisan partnership. Learn more about our artisans' handmade products here.
Details:
Horn Shaker: 4" high
Banana Leaf Box - 5 x 5"
Due to the natural shape and pattern of the horn, each shaker will vary in appearance and hue. No two are alike!
Horn Care:
If necessary to wash, do not use chemical solvents, and dry promptly
After washing, oil both outside and inside with coconut oil or olive oil
Horn can crack and dry out as it is a natural material, much like leather, and will need to be oiled yearly, or more frequently in dryer climates
Warning:
Do not put horn in the dishwasher
Do not let horn soak in water for prolonged periods of time, this will cause splitting and delaminating