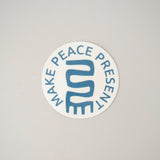 Amani "Make Peace Present" Decals
Stand in solidarity with Amani in her mission of bringing Higher Peace ("Amani ya Juu") to communities everywhere! Our "Make Peace Present" decals are a hip and easy way to show off your support of Amani and a peace-loving way of life.  Our transparent "Make Peace Present" stickers can be placed on any surface - laptop, car window, waterbottle - and be a reminder of living out peace and resting in the promise that "those who promote peace find joy" (Prov. 12:20).
The "Twistings" Symbol: Africa often communicates her wisdom through symbols. This African motif, called Nkyinkyim by the Adinkra of Ghana, is literally translated as "twists and turns."It symbolizes the winding path that life takes, and how one must be versatile and resilient to succeed. This symbol has been embraced by the women of Amani. "Twistings" through hardships and losses, are all too common in real life.  Amani provides a safe space where personhood and worth is regained, the will to pick up the pieces and begin living again revived. Passion returns. New skills prepare us for a new path. Life takes on meaning and purpose once again.
Dimensions: 3" diameter