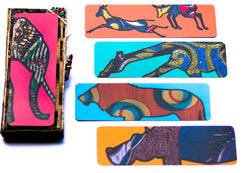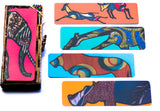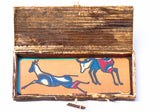 Safari Bookmark Set
Books allow you to travel. The safari bookmark will not let you get lost as you travel to far away places in your favorite book. 
Set of 5 brightly colored safari bookmarks
Packaged in a lovely handmade banana box
Proverbs on back
Proverbs:
"The thing that causes an elephant to fail is not strength, but cleverness that beats the mighty" -Lugandan Proverb
"Kindness can pluck the hairs of a lion's mustache." -Sudanese Proverb
"The rhino and the giraffe cannot reach the same leaves, but together they can strip the same tree" -African Proverb
"You can't mistake elephant footprints with those of a hippopotamus." -African Proverb
"The hyena chasing two gazelles at the same time will go to bed hungry." -African Proverb
Proceeds benefit the women of Amani ya Juu. Tunajenga is a partner in providing whole-life peace through job skills training, meaningful work, and fair trade employment for men in Kenya.