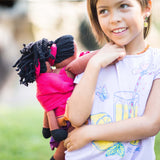 Kikoy Mama and Baby Doll Set
Lovable, huggable baby dolls from Amani are the perfect cuddle companion for your little one. Mama doll carries baby in a traditional Kenyan wrap. Baby dolls are dressed in authentic kikoy clothing, with yarn hair, and detachable baby. 
Handmade by the women of Amani Kenya.
Details: 17"L