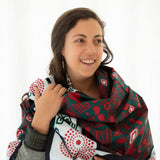 Kanga Scarf
East African kangas are given to express love. The woman who receives a kanga finds many uses for it such as a tablecloth, a bed covering, a wall hanging, or as a wrap. Each colorful piece of fabric has a Kiswahili message. You will find the unique message on your kanga in Swahili and, along with a card featuring the same message in English:
"Loving each other is joyful."- Cerulean Lotus, Groovy Tangerine, Olive Lotus
"To obey our parents is a good thing to do"- Periwinkle Diamond, Olive Diamond
 Details:
approx 64" x 46"
Kangas are quite stiff at first, but soften up after a few washes.